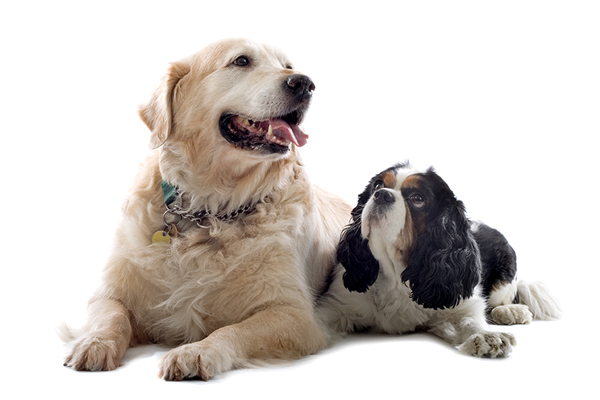 Caring For Your Senior Dog
11.05.2018
Your dog's "real" age is a function of its size, weight, genetics, care, and breed. It's a well-known fact that large dogs age much quicker or efficiently than small dogs. The correlation between size and lifespan in dogs is well documented. However, a dog's weight, genetics, the care it has received during its lifetime, and of course its breed also plays a big role. This is important to know since each dog can reach "senior" status at different times. While most dogs are considered seniors when they are between the ages of 7 and 11, that's a huge difference!
For example, a small dog that is 7 years old, equates to a 44-year-old person. Whereas a very large dog that is 7 years old equates to a 56-year-old person. If a dog is fortunate enough to reach 15 years of age, a small dog would be as old as a 76-year-old person, whereas a very large dog would be equivalent to a person that is 115 years old. It's easy to see that small dogs tend to live much longer on average than very large dogs. As for the reasons why researchers are still working on that mystery.
Since different sized dogs age at different rates, it's important to know when your dog will become a "senior" and to know how to plan and properly take care of him when he does. The guidelines below will assist you in caring for your senior dog.
Vet Visits
It's always prudent for your dog to visit your veterinarian once a year for a well check exam that includes blood work, a fecal test, and any needed vaccinations. When pets reach senior status, you may even consider taking them twice a year to get in front of any potential issue before it can progress too far. If you are hesitant to visit the vet that often, at least look your pet over for any lumps or growths, and be sure to monitor his body condition. Also be observant for any incontinence, constipation, coughing, shortness of breath, changes in appetite, water intake, urination frequency, or any other unusual activity. Potty accidents can occur with senior dogs, just like with puppies, so Potty Pads can be a handy tool to incorporate into the daily routine. If there are any sudden behavioral changes, be sure to discuss this with your vet as well. Sometimes a medical issue can bring a change in behavior with any dog, but especially senior dogs.
Senior Food
Feeding your senior dog a high-quality diet that is lower in fat, but still has good protein percentages and is appropriate for their age, weight, and breed, is always a good thing.  There are more food choices than ever before, so read the labels carefully and you will likely find many options for your senior dog.  You may even consider adding fatty acids such as DHA and EPA that help with arthritis and mobility issues.  And supplements such as chondroitin and glucosamine are also very helpful for senior dogs.  To aid your senior dog in eating more easily, an Elevated Feeding Station can be a perfect solution.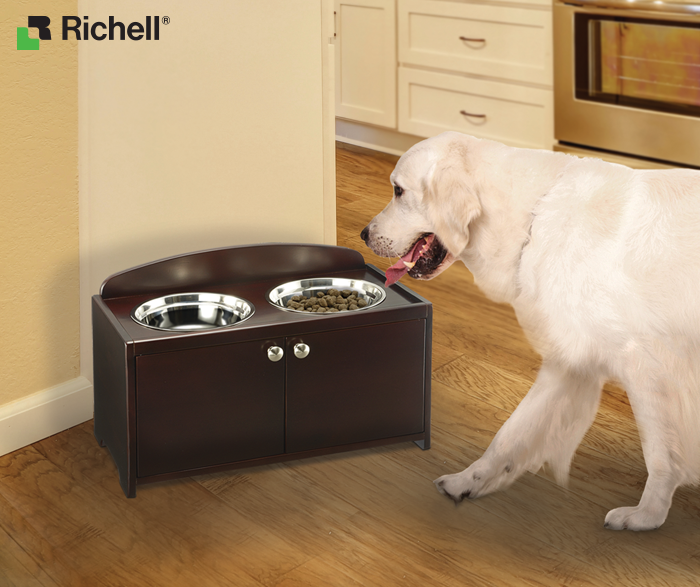 Richell's Elegant Pet Feeder Large
Eating Habits
Is your senior dog eating as much as they always have?  Dental health can play a big role in how comfortable eating is for older dogs.  If it is taking longer or is harder for your dog to eat, some changes may be in store.  Soft food can be introduced, as well as smaller dog food pieces.  Foods that are formulated for senior dogs often include ingredients that are easier to digest and may also feature supplements that help with arthritis and stiff joints.  And a convenient indoor, dry place to store all of your senior dog eating options can be a Dog Food Storage Tower.
Dental Care
Just as with people, a healthy set of teeth is critical for your senior dog 's health.  Poor dental care can cause plaque and tartar buildup, inflamed or bleeding gums or tooth loss.  These dental issues can then lead to a host of other health issues.  Regular brushing with a specially formulated canine toothpaste can greatly decrease the incidence of problems.  You can brush your dog's teeth yourself, with practice, or your vet can assist.  Good quality nylon bones are a great addition to your dog's dental care regime.  They provide hours of chewing to both clean teeth and keep your pooch entertained.
Comfortable Living
It's harder for senior dogs to get comfortable.  Aches, pains and stiff joints can get in the way of their attempts to relax.  It is also harder for elder dogs to regulate their temperature, either getting too hot or too cold.  Monitoring their time outside during summer and winter months will aid in their overall comfort.   Keeping them dry in wet weather will also help.  If your senior dog is afflicted with arthritis, a ramp to go up stairs will help them tremendously.  And a special orthopedic, ventilated and Elevated Bed may be a good solution for a comfortable nap or a better night's sleep.  Be sure to senior-proof your home by keeping things picked up and keeping food, water, and sleeping areas downstairs.  A lift harness or sling can also be helpful for senior dogs who have trouble moving or going to the bathroom on their own.
Physical Activity
Regular exercise for your senior dog is important.  He may not be able to run miles and miles with you any longer, or at the pace he once did, but at least walking your senior dog will help keep him from becoming overweight and keep his heart strong.  Just monitor his stamina and watch for signs that he's getting tired.  It will also help keep you in better shape, as well as providing one on one time that is so important.  The old saying – "Use it or lose it" – definitely applies to physical activity for your senior dog.
Play Time
Senior dogs still love to play.  And it's important to include toys and devices that challenge their minds.  Food puzzles will keep them occupied and certainly challenged.  It can also aid in weight maintenance.  Tug of war might not be as intense as it once was, but it is still important for maintaining healthy teeth and jaws.  And of course chew toys and bones are great for entertainment, satisfying the desire to still chomp on things, and for maintaining dental health.  And a great place to store the chew toys, bones, food puzzles and more is an elegant Toy Box that matches most room decors.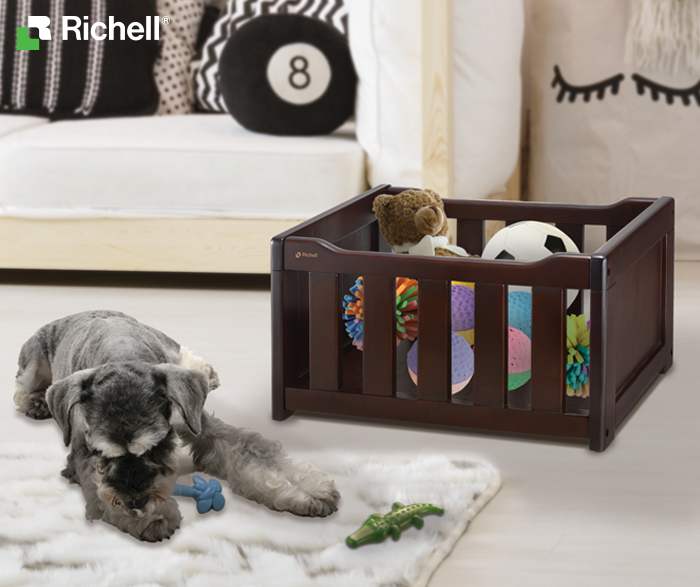 Elegant Pet Toy Box
Enjoy Each Day
Above all else, be sure to treasure and enjoy each day with your senior dog.   He has stood by you through thick and thin for years.  Now it's time to pay it forward and give him all the love and attention he has always willingly given.  Live in the moment, take lots of walks, play like there is no tomorrow, snuggle often and appreciate every minute together that you can.
---
MORE BLOGS FROM RICHELL USA!

10.01.2018
Days are becoming shorter, leaves are turning vibrant hues, and there is a hint of chill in the air. Nature is telling us that fall is here and Halloween is just around the corner.  >>> READ MORE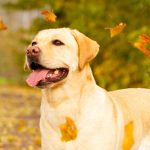 09.05.2018
National Pet Memorial Day is a special holiday for pet parents which is observed on the second Sunday each September. The first Pet Memorial Day was celebrated over 40 years ago and it continues to grow in popularity each year. >>> READ MORE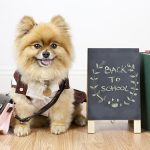 08.01.2018
It's that time of year again.  Summer is hanging tight and temperatures are still hot, but daylight is gradually escaping our hemisphere at the rate of nearly 2 minutes each day during the month of August.>>> READ MORE 
---
 Sign up today for our newsletters and get new product information and helpful tips!