Keeps pets confined but not you!
04.11.2013
Keeps pets confined but not you!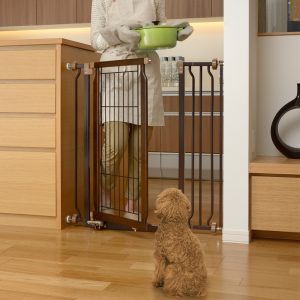 GRAND PRAIRIE, TX, USA (April 11, 2013) - Richell USA is set to launch its "newest" pressure-mount pet gate next month. The Hands-Free Pet Gate was among the company's new products unveiled at the recent Global Pet Expo in Orlando. Although the new gate includes many of the popular features found in Richell's other tension-mount pet gates, this particular model includes a specially designed feature that sets it apart from the rest ? namely a double-sided foot pedal. The foot pedal allows you to open the gate door virtually hands free from either side! In addition, the pet gate has an upper/lower locking system and opens in both directions. The addition of the "special" foot pedal however now allows the pet owner to move freely while both hands are preoccupied, all while keeping their pet(s) safely confined to his/her special area. The new pet gate definitely adds a new spin to Richell's popular line, "keeps pets confined but not you!"
The Hands-Free Pet Gate is designed for use with dogs from 8.8lbs up to 88lbs, yet it's light weight enough to set up with ease. Made from eco-friendly sustainable rubberwood, it measures 28.3~37.2 x 8.7 x 36.6". The inner carton includes a full-color graphic label and is 30.9 x 3.9 x 42.9". An Option Frame Set can be purchased separately.