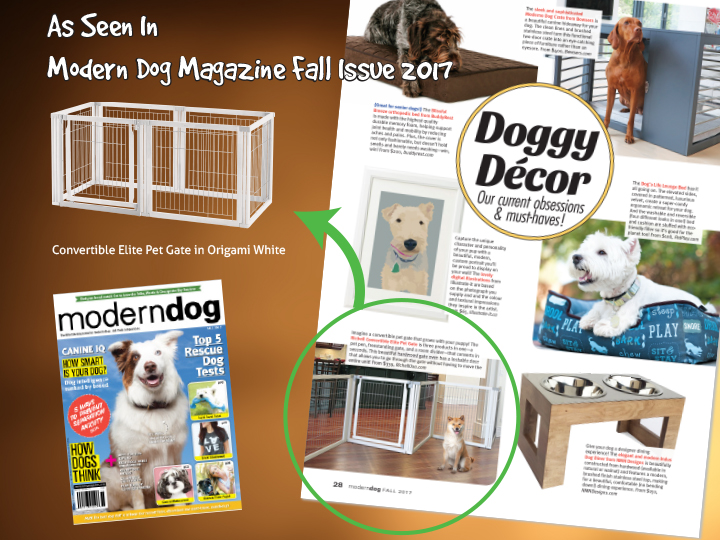 As Seen In Modern Dog Magazine – Richell USA Pet Gates
09.22.2017
Convertible Elite Pet Gate 6 Panel in Origami White is featured in Modern Dog Magazine Fall Issue! Imagine a convertible Pet Gate that grows with your puppy.
Richell's Convertible Elite Pet Gate can convert to a pen, freestanding gate, or a room divider as your pet grows. The gate includes a door panel to help you pass through the opening with ease without having to move the entire gate. Each panel locks in place at 90 and 180-degrees to provide extra stability with specially designed caps. Convertible Elite Pet Gate 31.5"H comes in four colors; Autumn Matte, Black, Origami White and Cherry Brown. For pen form, Wire Top and Floor Tray are sold separately. 
Features:
● Specially designed cap locks panels in place at 90⁰ and 180⁰ angles for extra stability
● Lockable gate door allows easy movement from room to room
● Beautiful hardwood construction
● Easy to assemble
If necessary, 2 sets of the gates can be combined for a larger space.
General Product Information:
● DO NOT move panels while caps are on to avoid product damage.
● Recommended for small- medium dogs 8.8 to 44 lbs. (4-20kg)
● Door Opening: 25.6 wide
● 1 1/8" space between wire slats
● Wire is 7 Gage or 0.144"