Why Dogs Love Fall
10.29.2021
Fall is upon us and many people enjoy this season more than any other.  Our canine companions are no different.  From cooler weather and fewer allergens to beautiful displays of color and numerous fun holidays just around the corner, fall is a time for spiritual and physical renewal for both man and man's best friend.
There may no longer be inviting pools to plunge into or as many sprinklers to dash through or drink from, but fall brings about lots of leaves to chase through the brisk northerly wind and giant leaf piles to lounge in.  It's also a great time to sit on the patio or in the park grass and soak in all the beauty without breaking a sweat or panting to exhaustion. 
How much do dogs love the fall?  "Let me count the ways…" as Elizabeth Barrett Browning would so famously pronounce in her sonnet 43.  We may enjoy the summer more, but dogs live for the fall and its cooler weather.  Our furry friends "come to life" before our eyes as the days get shorter and the nights longer.  The examples below bear testament to the fact that dogs love fall and look forward to a wide variety of activities both inside and out.
Cooler Temperatures
While we like warm summer temperatures for swimming, sunbathing, wearing flip flops, and enjoying other warm-weather activities, summer is not as fun for our pooches.  They act much different in the fall and spring when temperatures are much cooler and they can regulate their body temperature more easily.  Since dogs don't sweat but instead pant to dissipate heat, it's much harder for them to cool off in summer's heat.  Cooler temperatures are a huge reason dogs love fall.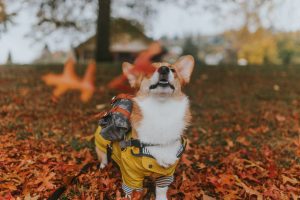 Leaf Chasing/Lounging
Chasing leaves in the cool fall wind is exciting enough, but romping on and lounging in mountain-high piles of autumn color can be even more exciting for man's best friend. There are so many scents, colors, and textures that a dog can be kept busy for hours exploring all the possibilities.
Less Allergies
Spring and summer feature the most allergens for both people and dogs.  Between trees blooming, grass seeding, and almost every plant pollinating, it's no wonder our fur babies tend to have a miserable time during these months.  By the time fall and winter arrive, the allergens are greatly reduced and relief is at hand.  Fewer allergens mean not as much itching and less eye, ear, and nose issues. Yet another reason why dogs love fall.   
Fewer Insects
From mosquitoes, fleas, and ticks, to ants, stinging insects, and spiders, the fall months feature less blood sucking and biting insects.  Sure, some are still some around, but not near as many insects bother our furry friends in the fall as in the spring and summer.  Not only are they a bother, but they can carry diseases as well.  What's not to love about fewer insects.
Longer Walks
Cooler autumn temperatures mean longer walks are a lot more possible.  In the summer, shorter walks are almost a necessity in many parts of the country since the air and pavement are so hot.  Many dogs love long walks, so this is yet another reason for dogs to love fall.
The Open Road
Dogs love riding in cars and trucks while hanging their heads out the window.  It's quite a bit more comfortable for all involved when this takes place in cooler weather.  Fall is for exploring new places with your canine companion and the brisk mornings and mild afternoons afford a perfect opportunity to enjoy the open road.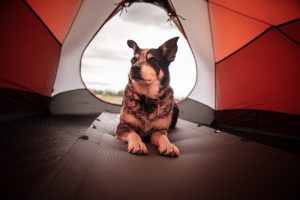 Camping Trips
Camping is fun year-round, but with less heat and humidity, insects, allergens, and more options for cool activities, fall camping can't be beaten.  Another bonus is less sunlight and longer campfires to relax by and enjoy the night sky with the shorter days.  Popular campsites often offer Halloween festivities in the fall for an added bonus for all.
Hit the Beach
We love to visit the beach in the summer and go swimming, build sandcastles, hunt for seashells, sunbathe and play beach sports.  However, the sand collects and focuses a lot of heat back at the person or animal on the beach.  Since dogs have a hard time regulating heat in the summer and they are more susceptible to burning their paws on the hot sand, fall is a great time to hit the beach and partake in new adventures without having to worry about hot weather and sand.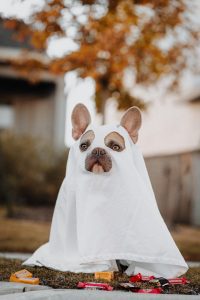 Costume Contests
Most dogs love attention.  Dressing your pooch up and entering a Halloween contest is a lot of fun for everyone.  Not only will it make for a picture-perfect moment, but it will provide a lot of additional pats, oohs, and aahs that will get many tails a-wagging.
Photo Shoots
Autumn photoshoots can be a lot of fun with cooler weather, fall colors, seasonal backdrops, and a more relaxed pooch.  Country scenes are popular, as well as pumpkin patch photo shoots.  Who can resist a dog laying in a pile of colorful leaves or resting among hundreds of pumpkins and scarecrows?
Baking Smells
Oh, the smell of fresh-baked cookies or apple pie on a crisp fall afternoon.  Dogs love all the aromas we create in our baking efforts.  We can even cook up a batch of homemade dog biscuits for them as a special treat.  With noses that can smell tens of thousands of times better than we can, you can rest assured that any smells emanating from the oven are thoroughly enjoyed by man's best friend. 
Seasonal Treats
Pumpkin-flavored dog treats are a big hit in the fall.  Add in some peanut butter, apple, sweet potato, or oatmeal and you will have an instant hit.  Tiny amounts of bland human treats are typically well tolerated by dogs, but homemade dog treats which are fall-themed will be even more popular since they won't upset your dog's digestive system as easily as human treats since they are specially formulated for canines.
Pumpkin Patches
Pumpkin patches are designed for fun.  You can lay in a field of pumpkins or hold some on your lap.  Our canine companies love the adventure as well, and some great pics can be taken with all the fall coloring, pumpkins, and Halloween decorations.  Just be sure to keep Fido on a leash so other pumpkin patch patrons feel comfortable
With all of the fun activities listed above, it's easy to see why dogs love fall.  From cooler temperatures that allow for easier cooling to leaf chasing, seasonal treats, longer walks, and costume contests, what's not to like for our canine companions.  Autumn represents the changing of seasons between one of growing to one of hibernation for many species.  However, for our four-legged furry friends, fall means a time of renewal and boundless energy after having to "cool it" during the heat of summer.  Now it's time to "make hay" while the sun still shines, and dogs are never at a loss for having ample energy when the time is right.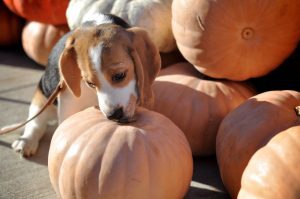 Follow us on Instagram    
More Blogs from Richell USA!
10.04.2021

It's that time of year again when it becomes more noticeable that the days are getting shorter, the nights a little cooler, and leaves have started to change color. >>> READ MORE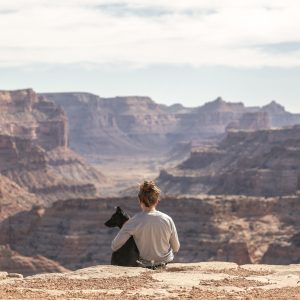 15 Ways Dogs Impact Our Lives More Than We Realize
08.26.2021

Dogs impact our lives more than we realize.  The list below is just the tip of the iceberg.  There are even more ways in which pets, and dogs, in particular, impact our daily lives... >>> READ MORE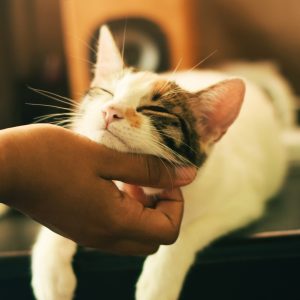 15 Most Essential Supplies for Cat Owners
07.28.2021

Cats are unique animals, and cat ownership can be a wonderful experience when properly prepared. Cats are often viewed as aloof, self-sufficient, and more independent than other pets, but there are still essential needs that cats have to maintain a healthy, engaged, and enjoyable life.... >>> READ MORE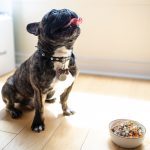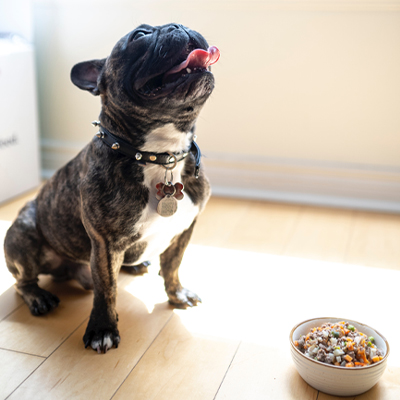 Homemade Dog Food & Treats - Pros and Cons
03.03.2021
Commercial dog food is once again making the news. Unfortunately, the headlines point to a recall of dog food that contains lethal concentrations of aflatoxins , ... >>> READ MORE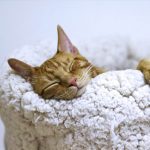 How to Keep Your Cat Happy & Healthy
09.14.2020
As summer comes to an end, it's the perfect time of year to start spending more time with our feline companions.  And as it just so happens, ...  >>> READ MORE
---
Sign up today for our newsletters and get new product information, updates, giveaways, and helpful tips!