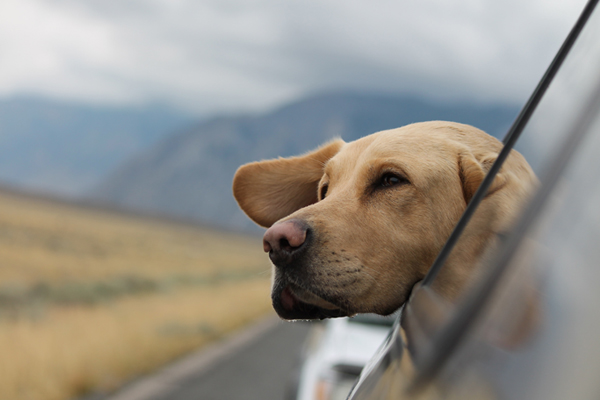 Traveling Safely with Pets
12.27.2019
Pets enjoy an adventure as much as we do.  They are almost always up for a fun trip, especially if it is with their Alpha or to a place they haven't yet been to.  The key is to engage their interests and do it safely.  Traveling with pets can definitely be an enjoyable experience if proper planning and safety measures are taken into consideration prior to departure, but it can quickly become stressful for both the pet and pet parent if the right precautions are not taken.
Pets often travel by plane, train, and automobile and become better-rounded and more obedient animals from the experiences they encounter.  As pet owners, it is our job to anticipate and effectively prepare for any and all contingencies so that traveling with our pets becomes a pleasant journey versus an unpleasant mistake.
Before any trip is undertaken, be sure your veterinarian has recently examined your pet and cleared him for travel and that your pet is micro-chipped or tattooed and registered with your veterinarian, a microchip database or the National Dog Registry.  If you want to be double sure your pet can find his way back to you if he gets lost while you are traveling, have an additional tag made which lists your travel location, local phone number and your cell number as a contact so you can be reunited with your pet sooner if you become separated.
Whether you are taking to the road, rails or flying the friendly skies, the travel tips below will assist you in planning and taking a pet-friendly trip.  Hopefully, they will aid you in being able to enjoy an easier travel experience with your pet so your journey becomes a wonderful memory and not a lasting regret. 
Hitting The Road
Short Training Trips – A great way to acclimate your pet so they travel well by car, truck, SUV or motor home is to gradually get them used to traveling this way by taking multiple short trips prior to your travel date. Gradually extending the length of each short trip will train your pet to be comfortable in the vehicle for an extended trip.  This is an ideal way to determine if they are prone to getting sick, freaking out or if they may need assistance getting into the vehicle.  Some large or overweight pets will find it hard to get up into an elevated vehicle without a ramp or other assistance.  Some pets may get car sick, and it much easier to find this out ahead of time so precautions can be taken.  If you have several pets, it is good to train them separately at first.
Prepare For The Worst – By preparing for the worst and hoping for the best, your pet will safely enjoy their trip and you will breathe easier. Making sure your pet's tag has up to date contact information and even adding a second tag with local contact info identifying where you will be staying is another way to be prepared for any circumstance.  Also, be sure to bring a copy of your pet's medical records in case an emergency arises. 
Pet Travel Kit – A pet travel kit that includes your pet's food, bowls, toys, mat or pillow, leash, grooming items, medication, bathing supplies, towels, flea and insect control, first aid kit, travel documents, poop scoop, and plastic bags is a great way to make sure that all the essential items are packed. It's a good idea to feed your pet a light meal a few hours before you head out and make sure to bring some bottled water so unfamiliar water doesn't upset their system.
Secure Crate or Seat Belt – Pets are certainly cute and cuddly and there is a great temptation to let them travel unrestrained.  However, it's much safer for pets, the driver and passengers when pets are properly restrained in a travel crate, fabric carrier, pet seat belt, pet barrier or a pet harness.  That way if the vehicle makes a sudden movement, pets won't get hurt. Loose pets can be a big distraction to drivers, and if pets become startled, they will often panic and go into frenzy mode trying to find a secure spot.
Hydration & Snacks – A good rule of thumb is to bring a gallon of cold water when traveling with a pet. Some of their food or a few bland treats are also a good idea to bring along, especially if the ride will be over 4 hours long or if you suspect delays could occur.  When feeding or watering a pet, it is best to stop the vehicle.
Pit Stops – Short breaks are good for both pets and pet parents. Plan on making a pit stop every two or three hours for a potty break and to stretch the legs.
No Pet Left Behind – Vehicle interior temperatures can get hot at any time of the year. An outside temperature of only 85 degrees can easily reach a deadly 110 degrees inside a vehicle.  It's critical that pets not be left inside a vehicle at any time.  If you are traveling to a destination that doesn't allow pets, simply leave the pet inside a hotel room or at home.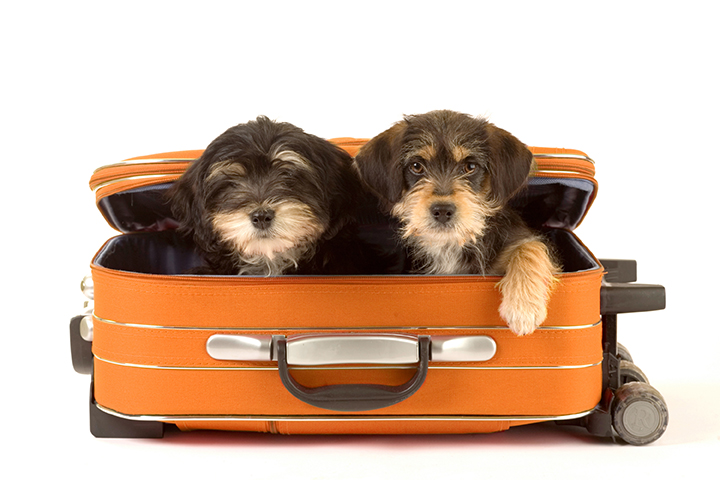 Flying The Friendly Skies
Direct Flight – According to the ASPCA, when making flight reservations try to book a direct flight so your pet spends less time on the tarmac during possible extreme weather conditions and there is less of a chance your pet is mishandled by baggage personnel.
Fit to Fly – Before traveling by plane your pet should be cleared to fly by your veterinarian within 10 days of departure so unforeseen circumstances are less likely to occur. If your pet is really young, old or not in the best health, it would be more appropriate to leave him home.  Your pet will also need to be up to date on their vaccinations.  If you are traveling outside the United States, be sure to contact the foreign country ahead of time to make sure you arrive with all the correct paperwork.  Sedating your pet is generally not recommended since it could hinder their breathing.  If you suspect your pet will need to relax prior to takeoff, you will want to practice relaxation techniques or figure out the best way to get your pet relaxed prior to the trip commencing.
Regulations, Fees & Safety – Regulations and fees vary depending on if your pet is flying in the main cabin or going as a checked item. And be sure to check the airline's track record regarding pet transportation.  Pets are being lost, injured or worse at an alarming rate these days.  Most major air carriers provide the Department of Transportation monthly incident reports which list pet-related issues.  Be sure to check out these reports to find the best airline for your pet.
Crate & ID – You will want to make sure you have the proper type of crate for air travel and that the crate is marked in multiple places "Live Animal".  You should also make sure the crate features your name, cell phone number, destination address and phone number and a photo of your pet in case your pet escapes from the crate.  In addition, keep a copy of your pet's photo with you in case you need to provide it to airline personnel.  The crate should be big enough for your pet to stand, sit and turn around in, and you should include comfortable, absorbent material for your pet to lie on and in case of an accident.  If you tape a durable bag of food to the outside of the crate, airline personnel can feed your pet if there are any delays.  And if you use the simple trick of freezing a small bowl of water prior to departure, it will melt slowly giving your pet much needed water during the trip without it all spilling upon departure.
Airline for Pets – If you would like your pet to be well taken care of and more attention paid to him during the flight, you might want to consider Pet Airways which only carries pets and features a flight attendant that checks on all animals every 15 minutes to make sure everything is ok. Upon landing, pets are afforded a bathroom break and pet owners can pick them up at Pet Airways' Pet Lounge at airports which feature the air service.
Pet Papers – If you are traveling abroad, find out if a quarantine period is required and which papers are necessary for proper travel to the destination country.
Broadcast You are Traveling with a Pet – Be sure to let every airline employee know that you are traveling with a pet so they are aware and can let you know if there are any changes or new guidelines for pets. It is also a good idea during extreme weather to let everyone possible know so they are aware a pet could be in danger from extreme heat or cold.
Exercise – It's a good idea to exercise, walk or play with your pet a short time before heading to the airport. That way they are a little tired and will sleep easier during the flight.  It will also keep them from being as agitated or nervous.
Relaxation – Dog behaviorist, Cesar Millan, recommends using lavender oil as an "association scent" to aid your pet in relaxing during a flight. In the weeks leading up to the trip, he suggests putting a drop of oil on your hands at feeding times or before a walk.  Once on board, "the positive association will allow your pet to calm down and remain relaxed."
Whether you are hitting the road, riding the rails or flying sky-high, your pet can come along for the ride as well with the proper preparation and foresight.  Pets add a lot to our lives and if we are ready and willing, they can join us for our adventures as well.  With just a little preparation and a dab of patience, pets can be enjoyed outside of our normal routine.  And you can rest assured that your pet will be a willing and able participant.


Follow us on Instagram    
---
MORE BLOGS FROM RICHELL USA!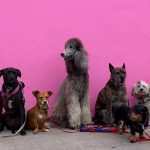 The Importance of Animal Shelters
11.25.2019
They are ever-present by our side through good times and bad. Always at the ready, loyal, compassionate, undeterred and dutifully mindful of their job to comfort and protect their human family. >>> READ MORE
Tips for Preventing Pet Obesity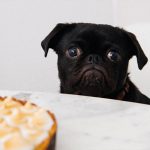 10.25.2019
With an endless barrage of media publications, Americans are reminded that we are a nation with too many obese people. We are a nation in love with the wrong kinds of food and many of us appear to be too busy or unable to exercise sufficiently enough to burn off the extra calories many of us consume each day. >>> READ MORE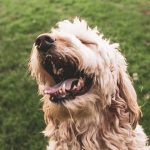 The Most Comment Dog Allergens and How to Avoid Them
09.20.2019
Itching, scratching, licking, biting, rubbing, chewing, gnawing, infection. Each of these words is well ingrained in a dog owner's vocabulary if Fido has allergies. But what causes an allergic reaction in the first place? >>> READ MORE 
---
Sign up today for our newsletters and get new product information and helpful tips!