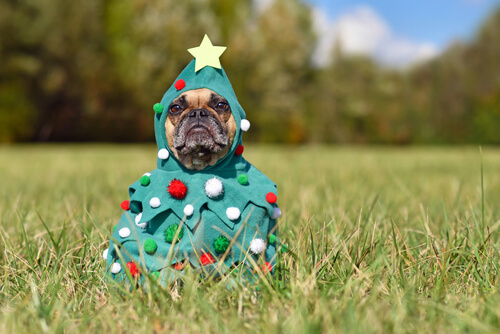 Celebrating the Holidays with Our Furry Friends!
10.19.2023
With fun activities about, the holidays are here and it's time to get the fun ramped up. But have you ever considered including your furry companions in the fall and winter festivities? 
Let's explore some creative ways to celebrate the holidays with your pets and highlight some fantastic products from Richell USA to enhance your pet-friendly holiday experience. Grab your four-legged friend, and we'll journey into the world of holiday magic for pets!
Safety First: Pet-Friendly Holiday Decorations
While holiday decorations can be captivating, they can also pose risks to your pets. Candles, for instance, are a staple of Halloween and Christmas decor but can be hazardous to your furry friends. 
Consider using Richell USA's pet gates to keep them away from potential hazards, ensuring a safe and fun Halloween for everyone.
DIY Pet-Friendly Treats
No celebration is complete without treats; your pets can have special goodies. Create homemade pet-friendly treats like pumpkin-flavored dog biscuits or catnip-infused toys for your feline companions. 
Richell USA'straining trays and pet crates can help you organize your DIY pet treat station, making preparing and serving these delightful snacks easier.
Themed Photoshoots
Capture the festive spirit with a photoshoot featuring your pets in their spookiest or best attire. 
Richell USA's pet crates and playpens can be used to set up a themed backdrop for your photoshoot. Share these adorable photos on social media to spread the cheer and perhaps even win a prize in a pet costume contest!
Safe Trick-or-Treating and Caroling
If you take your pets trick-or-treating or caroling with your family, ensure their safety with the right equipment. 
Richell USA offers pet carriers and strollers perfect for transporting your furry friends in style. This way, they can be part of the fun while staying comfortable and secure.
Pet-Friendly Parties
Host a pet-friendly party for your friends and their pets. Use Richell USA's indoor pet playpens to create a safe and enjoyable environment for all four-legged attendees. 
Set up a costume contest and a treat-filled scavenger hunt for your pets to enjoy.
Enjoy a Movie Night
After a day of adventures, wind down with your pets by watching pet-friendly holiday movies together. Use Richell USA's pet crates to create a cozy movie-watching area with all the necessary amenities for your furry companions.
Pairing pet themes with holiday vibes is a unique combination that will create a fun and engaging viewing experience for pet lovers during the spooky season. Here are a few movies to get your creativity started:
Hocus Pocus (1993): This classic Halloween movie features a talking black cat named Thackery Binx. The bond between Thackery and the main characters adds a pet-owner dynamic to the film.
Rudolph the Red-Nosed Reindeer (1964): This holiday classic is perfect for settling in with your pets and enjoying pet and human-friendly treats. You and your pets can indulge in classic '60s nostalgia as you ring in the holiday together.
The Nightmare Before Christmas (1993): While not a typical pet-owner story, this Tim Burton masterpiece features a friendly ghost dog named Zero. His loyalty and companionship add an endearing touch to the Halloween-themed plot.
Coraline (2009): Coraline's pet black cat plays a significant role in this dark, eerie animated film. The cat's presence is both comforting and mysterious, adding depth to the story's Halloween atmosphere.
Have a Happy Holiday Time with Richell USA 
As you plan your pet-friendly celebrations, remember to explore Richell USA's wide range of pet products to make the experience even more enjoyable and safe for your pets. Visit our website to browse our collection of pet gates, crates, carriers, and other accessories that can enhance your holiday fun.
This time of the year is a time for fun, and by including your pets in the celebration, you can create unforgettable memories together. With the help of Richell USA's high-quality pet products, you can ensure that your furry friends have a safe and enjoyable experience.
Contact us to learn more about where you can buy Richell products near you!


Follow us on Instagram    
Sign up today for our newsletters and get new product information, updates, giveaways, and helpful tips!