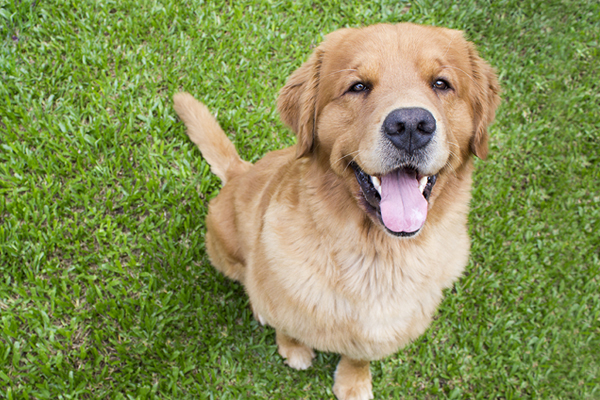 Is My Dog Smiling?
03.29.2018
Finally, the weather is nice, and our furry friends have additional opportunities to venture outside and play with us!  
As they enjoy their outdoor activities, somehow we, 'the dog parents', can tell they are happy and may even think they are smiling at us.  After enjoying a moment like that, I often wonder if my dog really is smiling.
Happy dogs have a general looseness to their bodies, and that applies to the mouth area as well.  If the side of your pooch's mouth points slightly higher than the rest of it, that often – but not always – signifies that all is wonderful in your dog's world at the moment.  More telling is your dog's tongue.  A loose-hanging tongue, combined with a mouth slightly ajar, generally signifies a dog is in a good mood according to the Caring Hands Humane Society website.  Although dogs don't actually smile like us humans, they sometimes happen to make expressions that look like smiles.
Ok, at least we are not misunderstanding them. They do have a way of expressing happiness on their face.  Now, I wonder if they can express any additional feelings on their face.
A dog may also give the false impression of smiling in subordinate situations, according to the ASPCA. If a dog is threatened by another animal or human that it feels is higher in social ranking, he may attempt to show his subordination by raising his lips in a nonaggressive display. It's a different baring of the teeth than an aggressive one, and dogs know the difference. It has the appearance of a smile, but the poor pooch is scared.
Well, that is a little confusing…., but as long as my dogs are with me, their smiling expressions will be reserved for only happy moments.  I believe they are happiest when they enjoy a good sleep in a comfortable bed, such as Richell's Elegant Wooden Pet Bed, and eat well from a pet feeder such as Richell's Elegant wooden Pet Feeder , which helps them eat from an ergonomically comfortable position.
In return, they make me smile all the time!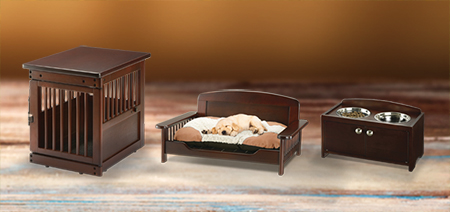 Elegant Furniture Collection; Wooden End Table Pet Crate, Elegant Wooden Pet Bed and Elegant Wooden Pet Feeder
---
MORE BLOGS FROM RICHELL USA!
As Seen In Modern Dog Magazine – Freestanding Pet Gate
03.16.2018
Richell's Freestanding Pet Gate HL is featured in Modern Dog Magazine Spring Issue 2018! Do you have a jumper? Richell Freestanding Pet Gate HL is 7.5 inches taller than the original wooden Freestanding Gate. >>> READ MORE
Dogs and Rain
03.01.2018
My dogs get SO excited when it starts to rain. They jump all around at the back porch door, and I usually say "No, it's raining."  "You will get wet and dirty, so I'll let you go outside later."  Then they stare at me with those sad, begging puppy dog eyes.  The fact that they want to go out so bad when it's raining has made me wonder why they want to go out and get all wet and dirty. >>> READ MORE
---
Sign up today for our newsletters and get new product information and helpful tips!