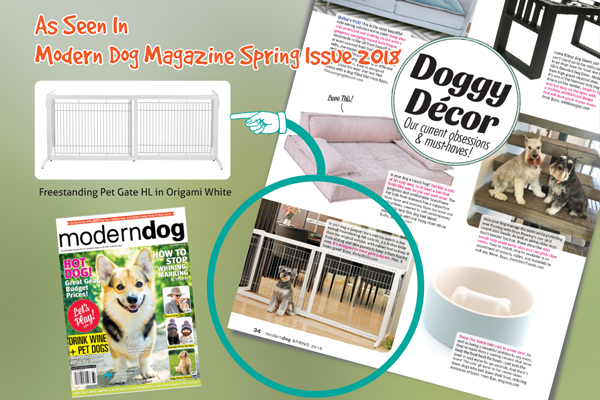 As Seen In Modern Dog Magazine – Freestanding Pet Gate
03.16.2018
Richell's Freestanding Pet Gate HL is featured in Modern Dog Magazine Spring Issue 2018!
Do you have a jumper? Richell Freestanding Pet Gate HL is 7.5 inches taller than the original wooden Freestanding Gate. The side panels keep the gate from tipping over and rubber feet to keep gate from sliding on hard surfaces. Available in different colors and sizes; HS, Small, and Large.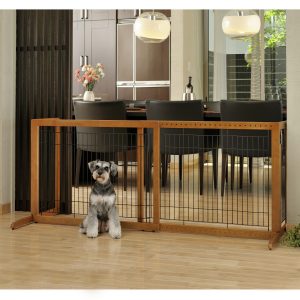 Freestanding Pet Gate HL in Autumn Matte
Features:
Designed to fit doorway or hallway openings from 39.4" to 70.9" wide
7.5" higher than the original Freestanding Pet Gate
Side panel design prevents tipping over
Rubber feet protect floor surfaces and prevent sliding
Side panels fold in for easy storage or transport
Beautiful hardwood construction
General Product Information:
Recommended for small dogs 6.5 to 33 lbs (3-15 kg)
1 ¼" space between wire slats
Wire is 7 gage or 0.144"
Made from Rubberwood
---
MORE BLOGS FROM RICHELL USA!
Dogs and Rain
03.01.2018
My dogs get SO excited when it starts to rain. They jump all around at the back porch door, and I usually say "No, it's raining."  "You will get wet and dirty, so I'll let you go outside later."  Then they stare at me with those sad, begging puppy dog eyes.  >>> READ MORE


A Simple Guide – Outdoor "Potty" Training
02.15.2018 
If you've chosen the correct pen size, your puppy will not potty while he/she is inside the crate/pen.  This is Mother Nature's way of keeping the home clean. By confining your pet to a small area, you can be certain he/she will not go until you take your pet outside. >>> READ MORE
---
Sign up today for our newsletters and get new product information and helpful tips!