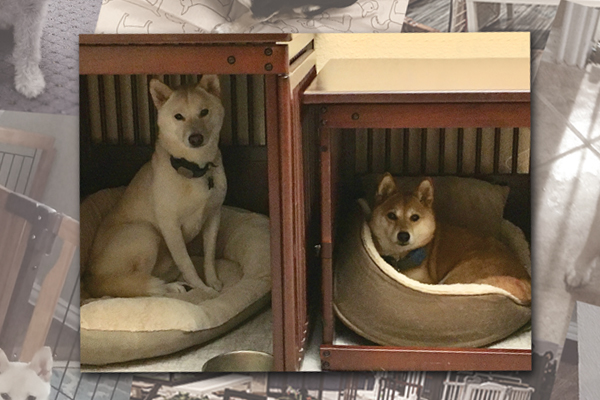 His Peek-A-Boo Moment
04.24.2018
The Shiba Inu (Shiba) is a very curious and clever breed. Prone to easily getting bored, the Shiba loves to frequently engage new challenges.
For example, if a Shiba finds a soft spot under a fence or other enclosure, it won't be long before a hole, just big enough for it to escape, is found excavated under the obstacle. Another example of their clever or mischievous nature might find a Shiba "testing" its owner with various misbehaviors to gain even more attention. 
This handsome young boy, Geoff, has been a little different than a typical Shiba since the day he joined our family. He is scared of every small noise, and purposely steps away from visitors to our home. He often refuses to be petted, too. It made us wonder if something bad happened to him during his puppy years.
The only thing he is interested in is light reflection. If he sees movement within the reflection from a glass door or window, he chases it with complete enthusiasm. He is a very healthy young dog, but he doesn't seem like a typical Shiba…..or at least that's what we thought until one recent night.
Geoff sleeps in Richell's Wooden End Table Pet Crate, placed right next to our other Shiba, Shiloh. He loves the crate and sleeps in it every night. A few days after we installed a new security system, we found a series of images capturing Geoff's  adventures during the night.  He got out from his crate, came to the image sensor and peeked into the camera.  He decided it was his turn to scare us with his creepy picture! The image contained mostly his big white face with the dark background. We finally found some Shiba characteristics in him!  
Well Geoff, it's a little too early for Halloween!!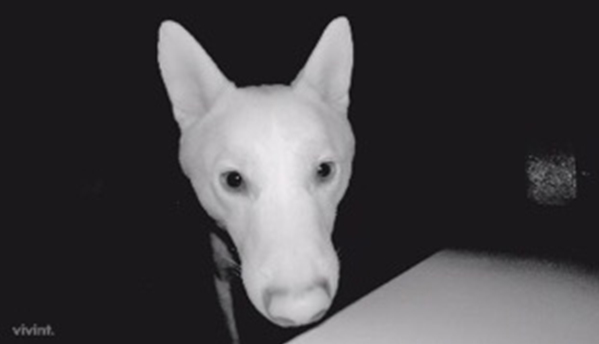 ---
MORE BLOGS FROM RICHELL USA!


Is My Dog Smiling?
03.29.2018
Finally, the weather is nice, and our furry friends have additional opportunities to venture outside and play with us! As they enjoy their outdoor activities, somehow we, 'the dog parents', can tell they are happy and may even think they are smiling at us.  >>> READ MORE 
As Seen In Modern Dog Magazine – Freestanding Pet Gate
03.16.2018
Richell's Freestanding Pet Gate HL is featured in Modern Dog Magazine Spring Issue 2018! Do you have a jumper? Richell Freestanding Pet Gate HL is 7.5 inches taller than the original wooden Freestanding Gate. >>> READ MORE
Dogs and Rain
03.01.2018
My dogs get SO excited when it starts to rain. They jump all around at the back porch door, and I usually say "No, it's raining."  "You will get wet and dirty, so I'll let you go outside later."  Then they stare at me with those sad, begging puppy dog eyes.  The fact that they want to go out so bad when it's raining has made me wonder why they want to go out and get all wet and dirty. >>> READ MORE
---
Sign up today for our newsletters and get new product information and helpful tips!